Farm - Agriturismo - B&B
Volterra (Pisa)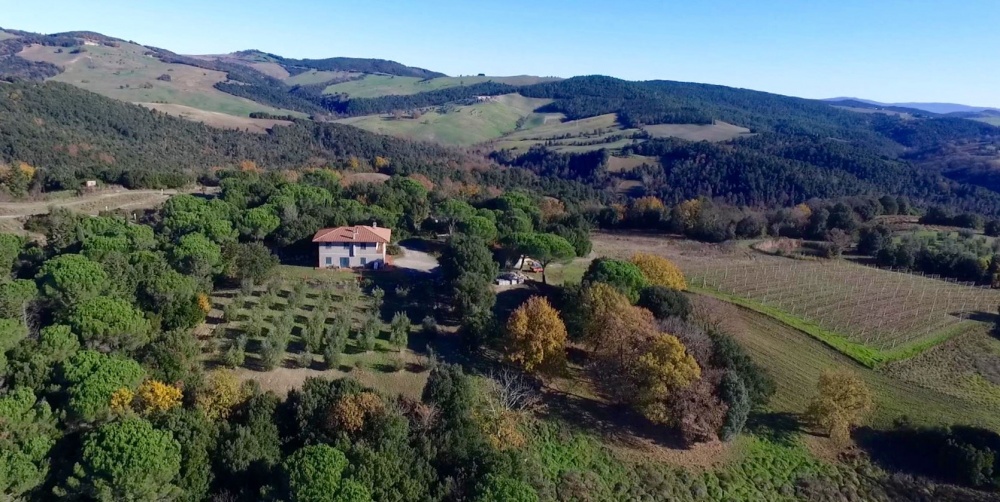 This property is situated in a quiet valley approx. 8 Km East of the City of VOLTERRA ( halfway between Pisa and Siena ).

The Riserva´s central location with stunning views in all directions create a real " WOW " factor by all who have visited it.

The Riserva contains a total of approx 55 Hectare of mainly Woodland , fields ( approx 15 Hectare ) and 2 Vineyards ( one of approx 0.764 Hectare is operational and the other of approx 1.628 Hectare is NON operational).
this Riserva has within it the majority of the land fenced-in — approx 30 Hectare. This means that nobody can enter the estate for hunting or any other reason __ i.e. it is totally private .

The origins of the estate is for Hunting, and the wildlife is made up of : Wild Boar, Red Deer, Roe Deer , Pheasant , Hare, Rabbit and some partridges. There are also porcupines, hedgehogs and lots of bird life. It is not unusual to have flocks of visiting duck.
The estate is registered as an Agricultural Organisation, but the land that is farmed is only for the wild animals, and not for any commercial basis. A great advantage for attracting wildlife is that there are 2 major springs supplying lakes with water which have never run dry. There are 3 other water catchment areas .

There is a small olive grove of 100 trees that give in general 100 kilos of Olive Oil for own consumption _ the oil being pressed at the Frantoio at Molino D´ Era.

The small manageable vineyard ( 0.764 hectare ) , is mainly of a Red grape variety, and some White Trebbiano grapes. Wine production is generally approx 500 to 750 litres of white and 3 to 4,000 litres of Red Wine. The vineyard is fenced-in against the wild animals.
The other vineyard ( Vino Vecchio ) of about 1.628 hectare was abandoned about 15 years ago, and has only some vines whose only clients are the wild animals ! However this vineyard could be resurrected .
The Red vines in the vineyard produce a wine with a taste distinctly different from any other Italian wine because of the Alum crystal in the ground which is found only in this valley and in a non-producing wine area North of Rome.
There is a fully operational Cantina with a Wine press and 3 Concrete fermenting Vats for the Red wine and 2 re-enforced plastic ones for the the White wine, plastic containers for bringing-in the picked grapes, and a de-stringer machine ( i.e. taking off the stems off the picked grape bunches ). There is no bottling plant, but lots of Damigiana containers ( 50 litres ) in which fermented wine ready for drinking is stored.

Being an ´ Agricultural set-up ´ , there are 2 bulldozers, 1 tractor, plough , spraying machine and an innumerable amount of farm machinery i.e. it is totally self sufficient as a farm. All the machinery is in good workable condition, but is not new.

There is a Hunting Lodge (known as the Casa di Caccia) which is divided in to : -
- an Upstairs : 3 Double bedrooms, bathroom, small store room, Large Sitting-room ( with open fireplace ) with Kitchen and off this a large South Facing Balcony with superb views where one can see Pomarance and Volterra in the distance.
- Downstairs also has 3 Double bedrooms ( one with French door windows to outside ), bathroom, large center corridor and a very large Sitting room ( with open fireplace ) and kitchen
The town water and electricity are operative. Telephone/TV connection can easily be reconnected which is supplied very economically by " laser beam " from Volterra . There are Central Heating radiators both up and downstairs but the CH boiler would have to be replaced. The hot water supply is at present supplied by electric boilers for upstairs & downstairs.

There is a great opportunity to develop this unique private nature reserve by modernising the Casa di Caccia as a private single residence , building a Swimming Pool and Tennis Court. The vineyards could be commercialised in conjunction with the available unique Hunting facility.

For this reason a feasibility study was undertaken by an ´ Agro Economiste ´ and as a result various suggested proposals were worked out and be developed to create a traditional Tuscan Villa estate .

The whole property is in fact a limited company registered as an Agricultural operation. The company has no employees and is totally free from any commitments. Any work that is required on the Riserva is done by contract work ´ as and when ´ required.




AD

| | |
| --- | --- |
| Published on | 12-09-2018 |
| Reference | 838 |
| Type | Farm - Agriturismo - B&B |
| Property condition | 3. To restore |
COMMERCIAL OFFER

| | |
| --- | --- |
| Type of contract | Sale |
| Price | 0 |
| price notes | O.N.O. - Asking price for the purchase of the limited company - No additional property purchase taxes |
GEOGRAPHIC DATA

| | |
| --- | --- |
| Municipality | Volterra |
| Province | Pisa |
| Region | Toscana |
| Country | Italia |
| Location | Countryside |
PROPERTY FEATURES

| | |
| --- | --- |
| Energy rating | G, Certificazione energetica EP globale non rinnovabile 311,43 kWh/m² anno EP globale rinnovabile --- EP invernale del fabbricato Bassa EP estiva del fabbricato Bassa Edificio a energia quasi zero No |
| M2 | 250 |
| Rooms | N. 9 |
| Bedrooms | N. 6 |
| Bathrooms | N. 2 |
FLOORS / ENTRANCE

| | |
| --- | --- |
| Independent entrance | |
GARDENS AND GROUNDS

| | |
| --- | --- |
| Adjoining land | |
| Comments | 55 Hectare of mainly Woodland , fields ( approx 15 Hectare ) and 2 Vineyards ( one of approx 0.764 Hectare is operational and the other of approx 1.628 Hectare is NON operational). |
SALE
0
O.N.O. - Asking price for the purchase of the limited company - No additional property purchase taxes