property walking distance to volterra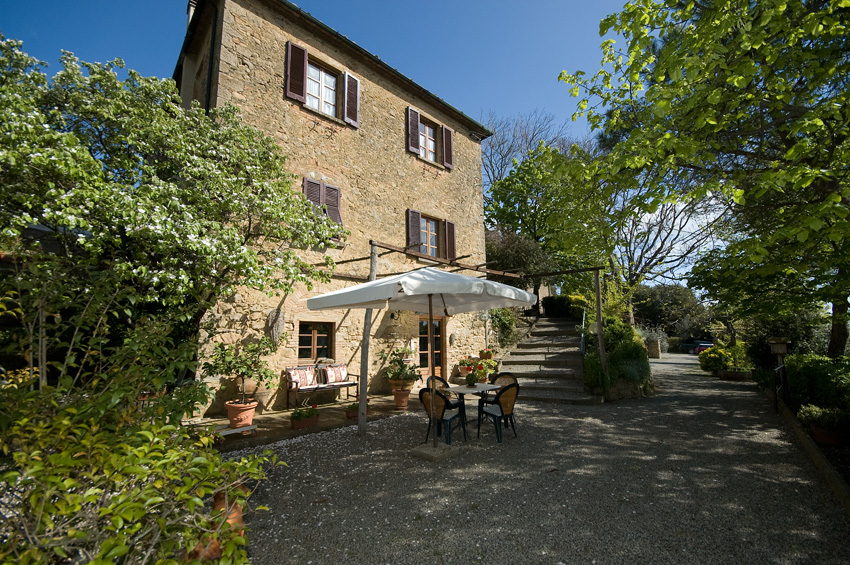 In the immediate vicinity of the historic center of Volterra, which can also be reached on foot, we offer the sale of this beautiful property consisting of two buildings and about 1.5 hectares of land.

The property, located on a slope with views of the woods in front, is easily accessible via a comfortable asphalted road.

Building 1, farmhouse of about 280 square meters, with a total of 8 bedrooms and 8 bathrooms.

The property is divided into 4 cadastral apartments, however, the owners have divided it into 7 real estate units of various sizes to facilitate the tourist rental:

APARTMENT A 35 sqm - Two-room apartment on the ground floor with double bedroom, living room with corner kitchen, bathroom with shower

APARTMENT B 35 square meters - Studio apartment obtained from the ancient horse stable of which it maintains a large arched window overlooking the central garden. Double bed, corner kitchen, bathroom with shower.

APARTMENT C 40 sqm - Large and bright two-room apartment on the first floor consisting of a double bedroom, bathroom with shower, large living room with corner kitchen and illuminated by large windows overlooking the Valley and from which you can admire a splendid glimpse of Volterra.

APARTMENT D 38 sqm - Two-room apartment on the first floor with double bedroom characterized by a vaulted ceiling entirely in typical Tuscan exposed bricks, living room, corner kitchen, bathroom, shower box.

APARTMENT E 43 sqm - Two-room apartment composed of a large living room, corner kitchen with two windows overlooking the olive garden, bathroom with shower and a particular bedroom located upstairs in the tower of the house furnished with a wrought iron bed that makes it romantic and unique.

APARTMENT F 32 sqm - Small but comfortable two-room apartment consisting of a double bedroom, bathroom with shower, kitchen.

APARTMENT G 57 sqm - Three-room apartment located on the ground floor consisting of two double bedrooms each with private bathroom with shower, kitchen.

A nice tavern / warehouse completes the building.
Building 1 was renovated in the early 1980s and is in good condition although it needs modernization and some renovation.

Building 2, farmhouse of about 100 square meters, used and inhabited by the family:

On the ground floor: kitchen with thermo-fireplace, two bedrooms and bathroom;

In the basement: kitchen, living room, bedroom, bathroom, loggia, another room.

This building was renovated in the late 90s. In total, the two buildings include 11 bedrooms and 10 bathrooms.

The property features a lovely garden with flowers and plants that offer large areas of shade where you can relax on hot summer days, and a large parking area.
The land of the property has an area of ​​15,560 square meters and includes, for the most part, wooded land as well as an olive grove with about 150 olive trees of which about 100 are in production.

The property is connected to the public water network and is also equipped with a tank and two springs.

The heating system is powered by LPG gas.

Given the importance of archaeological sites located in the area where the property is located, the current provisions of the Superintendence of Fine Arts could not allow the construction of a swimming pool.
The transfer of the property will be possible starting from January 2024, however, before this date, the selling company is available for the signing of preliminary agreements that promise the sale from the aforementioned date.

Main Distances:

Volterra: about 1.2 Km

Sea: about 42 Km

San Gimignano, about 30 Km

Pisa airport: about 62 Km

Siena: about 57 km

Florence: about 80 Km
ANNOUNCEMENT DATA

| | |
| --- | --- |
| Reference | 834 |
| Type | Farmhouse - Villa - House |
| Property condition | 1. Restored |
COMMERCIAL OFFER

| | |
| --- | --- |
| Type of contract | Sale |
| Price | € 780.000,00 |
GEOGRAPHIC DATA

| | |
| --- | --- |
| Municipality | Volterra |
| Province | Pisa |
| Region | Toscana |
| Country | Italy |
| Location | Countryside |
PROPERTY FEATURES

| | |
| --- | --- |
| Energy rating | Under certification |
| m² | 380 |
| Bedrooms | N. 11 |
| Bathrooms | N. 10 |
FLOORS / ENTRANCE

| | |
| --- | --- |
| Nr. Floors | 2 |
GARDENS AND GROUNDS

| | |
| --- | --- |
| Gardens | |
information request form
For more information about this property or to book a visit, please fill out this form and press "Send Request".Thank you
All fields in bold are required.